BLOG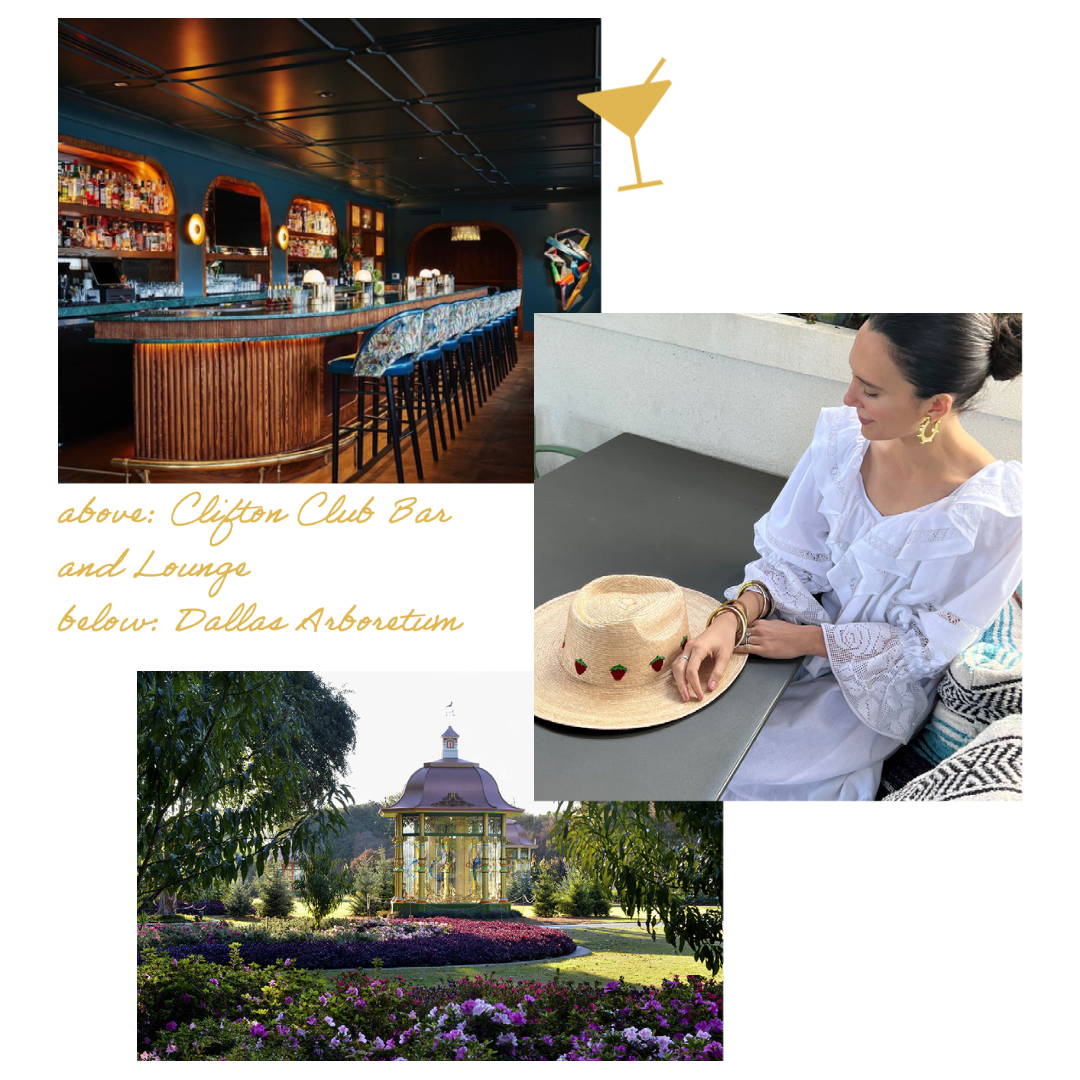 I'm a big fan of coffee shops. That's something I miss most from living in New York. I used to love walking to a coffee shop on the weekends. Thankfully, Dallas has gotten some great places. Merit Coffee on Oaklawn, Sadelle's in Highland Park and La La Land Kind Café on Lovers Lane.
Knox-Henderson or Bishop Arts

BEST PLACE FOR A COCKTAIL:
My husband and I went to Clifton Club Bar & Lounge recently and I'm dying to go back. I love the laid-back atmosphere.
FAVORITE PLACE TO GET PAMPERED:
The Joule Spa is so beautiful and gives the best massages or Dr. Barbara Sturm Dallas Boutique & Spa for a facial and you can shop in HP Village afterward.

What are your can't-miss recommendations for friends visiting from out of town?
I always tell friends from out of town to eat at one of the many Tex Mex restaurants, you can't come to Texas and not eat Tex Mex!
What are your top hotel recommendations – with kids and without?
My top hotel recommendation would be the Rosewood Mansion on Turtle Creek. The location is great, and it has one of my favorite bars in Dallas. If you want to stay downtown, The Joule has an awesome spa, and the rooms are really nice. I also love the décor of The Adolphus. We had our rehearsal dinner there and we had the best experience. The bar is also so fun! The Four Seasons in Las Colinas is great with kids, they are so accommodating and kind.
What are your go-to brunch spots in Dallas?
We love going to Mercat Bistro as a family. The space always feels so cozy and beautiful. I like to get a cappuccino and their almond croissant or the quiche lorraine is incredible. Le Bilboquet is a classic in Knox-Henderson and fun place to go with girlfriends. And the lox bagel at Hudson House is perfect on a Sunday morning.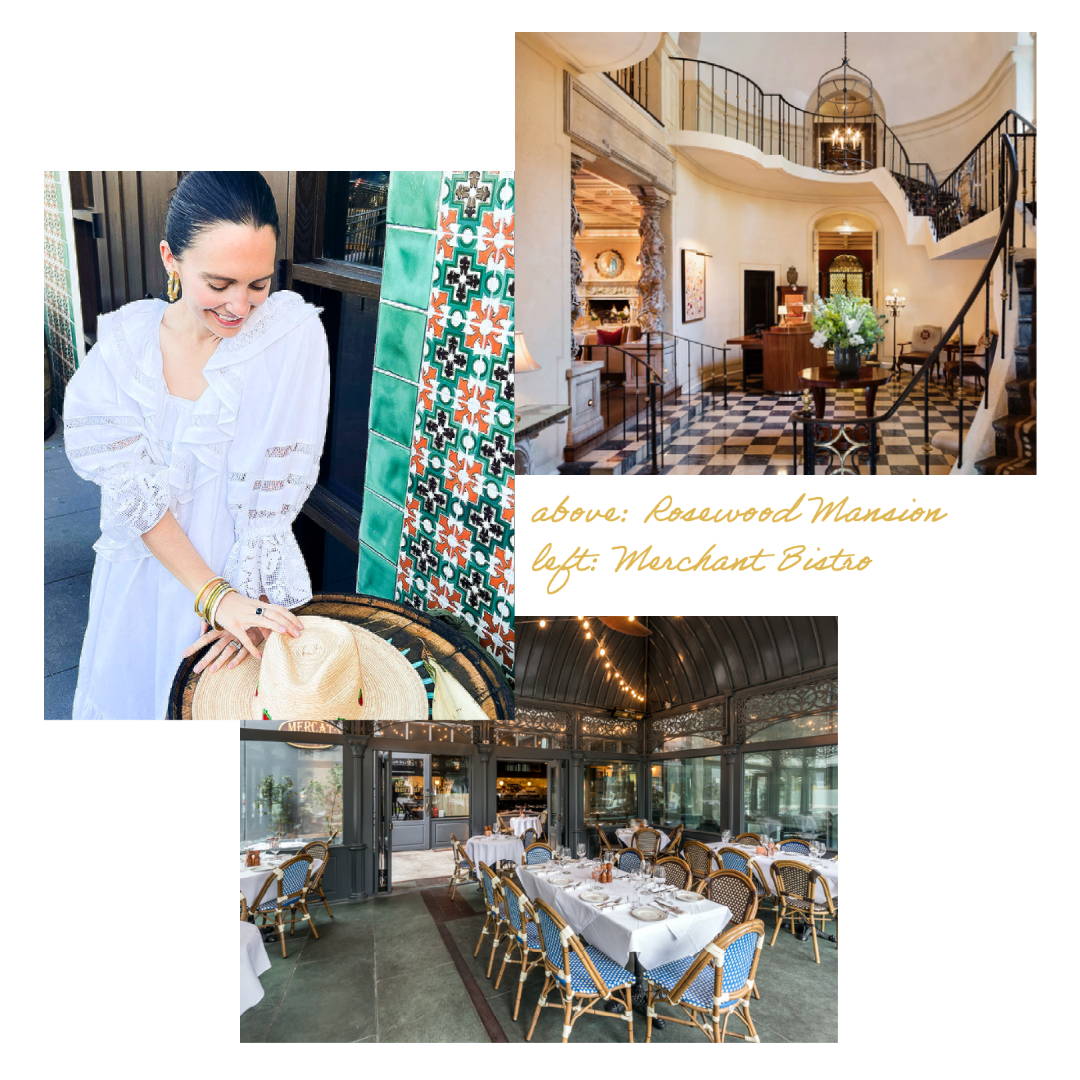 Best Tex-Mex in your opinion?
Odelay Tex-Mex has been such an awesome addition to Dallas. I love the fresh tortillas and how you can see them being made in the back. The shrimp quesadillas are my favorite and are perfect with a skinny Margarita with Tajín on the rim.
A touristy attraction that you'd actually suggest?
The Dallas Arboretum especially around the holidays is so beautiful. It's by White Rock Lake and the views are stunning. They do such a good job decorating with pumpkins in October and the Christmas decorations are fabulous. The Nasher Sculpture Garden is somewhere I always like to take friends. It's such a peaceful place with an incredible collection.
Any other Dallas hidden gems you'd be willing to share?
Not really a hidden gem but now that I married a guy from Fort Worth, I love Fort Worth! Such a fun city to go for the day.
Favorite dinner restaurants?
ABSOLUTE FAVORITE- Mot Hai Ba in Lakewood

DATE NIGHT- Boulevardier in Bishop Arts

GET DRESSED UP- The Charles (decor is so fun!)

ELEGANT NIGHT- Tei An. It's unassumingly elegant.

NEW YORK VIBES- I love Carbone Vino and the
vibe next door at the Tango Room feels like New York

Favorite boutiques, vintage stores, etc?
CANARY- For beautiful clothing that you can't find anywhere else

JO JO MOMMY- Children's clothing

HIGHLAND PARK VILLAGE- a fun scene to watch.